Taking an Aerial Look at Disney Hollywood Studios
Before I start talking about my thoughts on changes coming to Disney Hollywood Studios let us first take a look at the current park. Using Google Earth I took a capture of the park and tried to figure out what was staying and what was going. I quickly categorized and labeled my predictions for the buildings.  I say building not attractions because I think some buildings will stay but just be gutted and something else put inside.
Green -Park Entrance street, I don't expect this to change but might get refreshed after the rest of the park is near completion.
Blue – Buildings/Attractions that are staying
Yellow – Buildings that are in danger. Some might just have their insides changed. Others might survive till a later construction phase.
Red – Pretty much assume these will be gone.
Magenta – Backstage area that will probably stay backstage.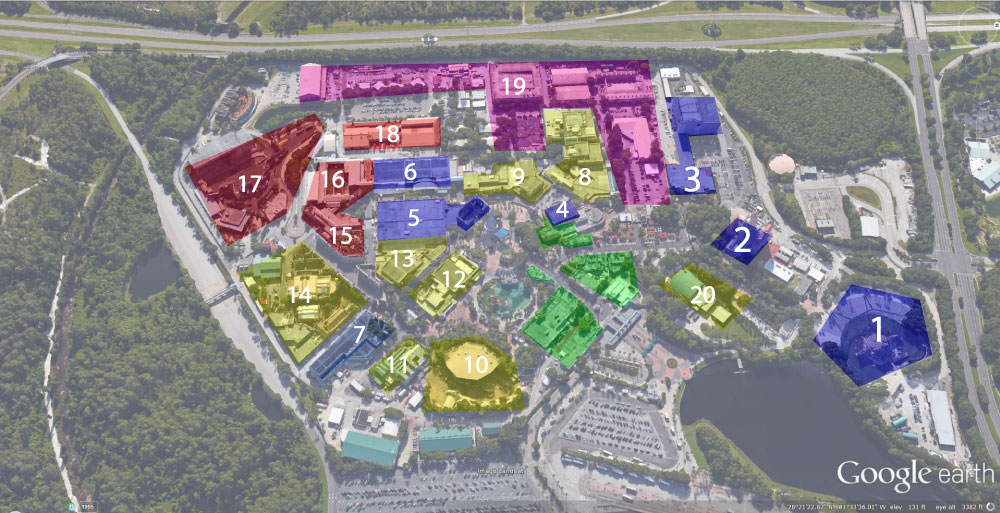 Fantasmic – Staying. No reason to get rid of it and the land too far detached for good use.
Tower of Terror – Staying.
Rock 'n' Roller – Staying. The building is so odd looking
Playhouse Disney – May get refreshed. This is a popular attraction and it shares a building with Brown Derby, a popular restaurant.
Great Movie Ride – For now. After the rest of the park is done it might be closed and change but for now staying.
Toy Story Mania – Staying and getting bigger.
Star Tours – Staying and further Star Wars attractions built around it.
Magic of Disney Animation – This just closed recently. I'm not sure what they have planned. This location is connected to lots of office space. Perhaps it could be the new home of Muppets or One Man's Dream.
Little Mermaid/One Man's Dream – This building will probably survive until Pixar Place is open. After that I don't expect it to stay. One Man's Dream might move over to the Animation Building with a meet and greet.
Indiana Jones Stunt Spectacular – This is another show that I think is safe until Pixar and Star Wars are near completion. It is separated from the suspected construction area and it would be strange to have construction on both sides of Star Tours.
Backlot Express – If Indy stay for Phase 1 then so will this.
Theaters – These are already rotating. Sound Dangerous side will shiftly become theater 1 for indoor Jedi Academy. Other side will stay Frozen sing-a-long for Phase 1.
Commissary and Sci-Fi Drive In – Will probably stay open and unchanged.
Muppets Area – Sadly I think the Muppets are in serious danger. The land is too prime not to build larger attractions on. A Star Wars restaurant  would also fit in this area.
Honey I Shrunk the Kids/Studio Catering – I think this will hang around for Phase 1. I believe it will close after that to become something similar (Another counter service and kiddy rides) but better themed.
Backlot Tour Effects Area – Already closed. This is going to be something Pixar related.
Lights Motor Action – Probably the future home of Carsland or a Star Wars attraction.
Costuming and Props Department – These were actually good work space for Disney but I'm sure they are clearing them out for Pixar right now.
Backstage Area – Hollywood Studios is actually in a tight spot and they need to keep some backstage space. This is most likely what they will keep.
Beauty and the Beast – I forgot about this. It needs to be updated or switched to another show but will be left alone until the rest of the park is done.
So that's what I think about what is at the park currently.  In my next post I will address what spaces I think will become what and explain my thoughts on a phased building plan.