Walt Disney World 50th Anniversary Commercial Easter Eggs
On May 28th Disney released their first commercial about the upcoming 50th Anniversary. In the accompanying blog post they shared that 18 Easter Eggs were hidden with in the ad. The Parks Blog Post divulge two of the "artifacts," the Enchanted Rose and Cinderella's Slipper. Of the 16 other items are to be found the post inferred that they are all in this room, I listed what I believe to be the 16 below.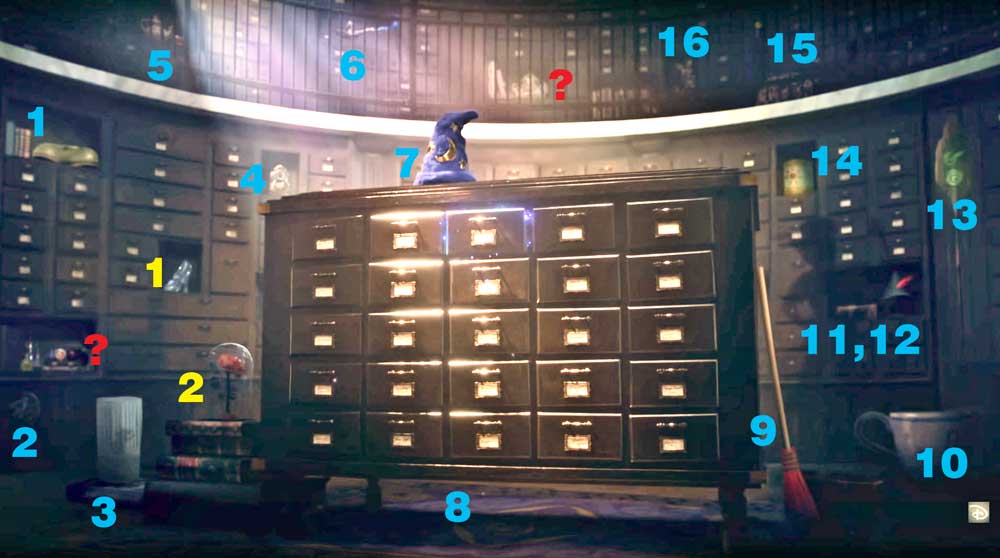 Disney Revealed (Yellow)
1. Cinderella's Glass Slipper
2. The Enchanted Rose from Beauty and The Beast
Easter Eggs
1. Mickey's Shoes
2. Lion King symbol
3. Remy in a chef's toque
4. Cogsworth from live action Beauty and the Beast
5. Ms. Potts and Chip from live action Beauty and the Beast
6. The Genie's Lamp from Aladdin
7. Yensid's Hat from Fantasia
8. Carpet from Aladdin
9. A Broom from Fantasia
10. A teacup (seemingly from the Alice in Wonderland/Mad Tea Party Ride)
11. Peter's Shadow from Peter Pan
12. Peter's Hat from Peter Pan
13. A Moana themed oar
14. Lamp from Tangled
15. Mary Poppin's Bag
16. Golden Statue of Mickey Mouse
Other Items of Interest.
? Set of vials and small balls. Could be the Evil Queens potions, or Honey Lemons (Big Hero 6) gear. If they were a bit taller they could almost be characters from "It's A Small World".
? Possibly a crown or box. My mind keeps telling me this is an antique clock but I can't think of where I've seen it before.
Other Thoughts on the Commercial
It seems limiting that the attempt to hide things is only limited to this one scene. If they wanted to build excitement then why not hide little things throughout. There were multiple other scenes where little touches could have been added. When showing the Tree of Life, aspects of Dinosaur and Avatar should be hidden within. In any of the family scenes add more Disney touches besides just reading a story book. A Moana's Necklace or Tinker Bells lantern, these small touches could be scattered anywhere.
It was also disappointing that the range of items is so limited. Only 11 properties are represented in the items I found and the omission of such big hits like Frozen seems glaring. They could have gone for more direct themes in the Easter Eggs. Considering that this room is in the castle; have one item to represent each of the attractions in Fantasyland or the Magic Kingdom. Another would be just to represent each of the Disney movies that came out over the past 50 years. I hope in future advertisements they do a little more to showcase more of Disney World's journey over 50 years.